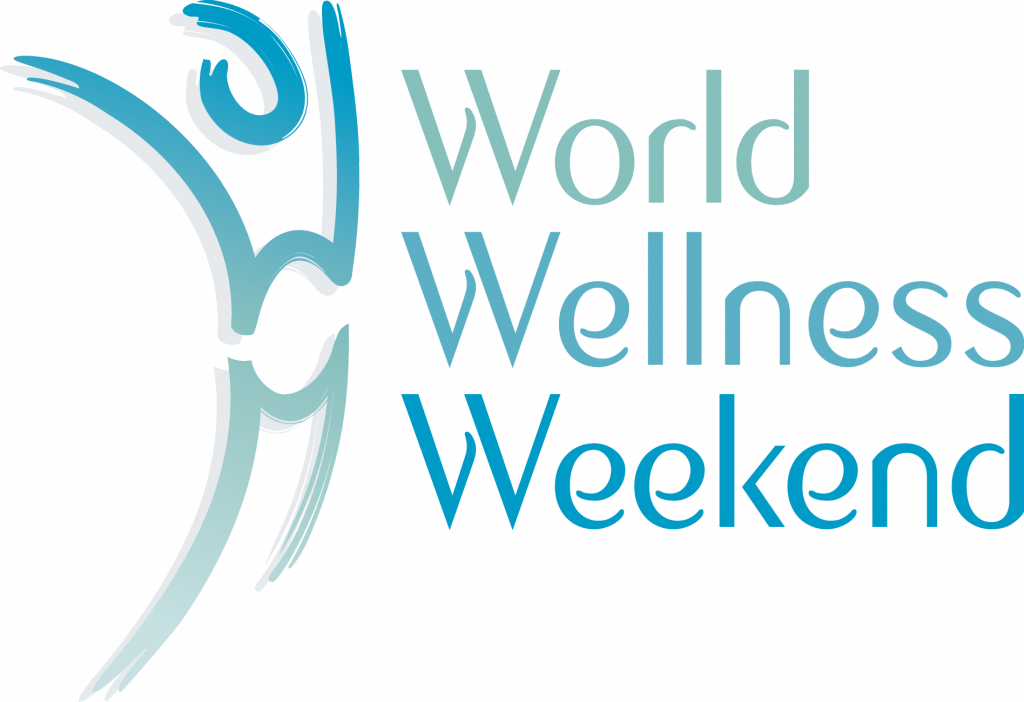 English

About World Wellness

Weekend

– WWW
Each year since 2017, World Wellness Weekend promotes healthy activities and lifestyle choices on the 3rd week-end of September. In 2019, 430 mentions in the media reached an audience of 224 million people.
Supported by 60+ international organizations, and in alignment with the UNITED NATIONS SDG 3 ("Good health & well-being for all"),WWW was celebrated for the 4th time in 2020 by 1,123 venues in 543 cities (109 countries). Each participating venue, or wellness professional, organized 60-minute fun & free wellness activities for locals, whether ON SITE (yoga class, fitness jam, nutrition talk, massage workshop, guided meditation…) or ONLINE with a podcast, webinar or tutorial.
In 2021, this worldwide event will become a social wellnessmovement making hope & enthusiasm contagious through 5 Pillars of Wellness: Sleep & Creativity, Nutrition & Immunity, Movement & Vitality, Mindfulness & Serenity, Sense of Purpose and Solidarity.
We strive to facilitate & accelerate the implementation of sustainable change in lifestyle on personal, organizational and governmental levels:
People are inspired and empowered to connect with their best self;
Companies are encouraged to implement & grow a culture of wellness for teams and clients;
Cities are invited to shine as "Champions of Wellness", with the support of Governors, Mayors, Visitors bureaus or Chambers of Commerce, to engage local residents in inter-generational activities and to attract tourists (regional, national and international, when travel restrictions are eased).
In 2021, World Wellness Weekend with showcase immersive wellness experiences with Virtual Reality in partnership with VR professionals, giving the opportunity to cities and hospitality group to reach a worldwide audience.
Why become a WWW Ambassador in your City
Spa, Wellness, Sports, Fitness, Hospitality, Tourism professionals are encouraged to apply to become Ambassadors World Wellness Weekend in their city, on a volunteer basis.
Our 60 current Ambassadors are business owners, directors or managers, consultants or educators, highly respected by their peers, with integrity and excellent track record. They are achievers who want to make a difference in promoting healthier and richer lifestyles.
We hope that being the face, the voice and the smile of the World Wellness Weekend in their city will help each Ambassador to continue to raise their profile, grow their network, increase connection with the media and local officials, bringing exposure and opportunities both on personal and professional levels.
Contact us: [email protected]
WWW Ambassadors commit to:
Encourage venues and independent licensed wellness professionals to register online (wellmap.org) and showcase the expertise and enthusiasm of their team through Wellness activities
Join theWWW network (with one monthly Ambassadors ZOOM call)to learn frombest practices& success stories, and boost their own activities and operations
Engage with regional MEDIA through regular Press Releases about WWW
Connect with local officials to promote wellness activities for local communities.
WWW Ambassadors are officially promoted on the WWW website, in Press Releases, through articles, podcasts, webinars, conferences and social media.
WWW Ambassadors receive support with strategic and operational documents in Digital Marketing, Event planning& coordination, Communication, and Sponsorship.
Meet & contact our 3 WWW Ambassadors in Africa
WWW Ambassador in Cape Town (South Africa): Taryn LILLEY – Spa Consultant at Spa Dynamics

[email protected]
Photo : https://drive.google.com/file/d/1m6-GNEaGKhbtbUW0MHEznJ-b1H-uIYkd/view?usp=sharing
WWW Ambassador in Marrakech (Morocco): Soumia HITE – Founder Prestige Coaching

[email protected]
Photo: https://drive.google.com/file/d/1f2F1rOJSHpiV5UgOVEAVCMGjuVd4j5dO/view?usp=sharing
WWW Ambassador in Cotonou (Benin): Marietta DANNON – Founder Marina Wellness Hub  

[email protected]
Photo: https://drive.google.com/file/d/1RNfai9rRDCPlMhEadSlu8pNK55eSQ2Zv/view?usp=sharing
WWW is in collaboration with Spa and Wellness Association of Africa (SWAA).
SWAA members who participate in WWW get the following benefits:
Get your WWW event activity listed in SWAA´s September continental newsletter ´Africa Spa Wellness Bulletin´ if activity is sent in by 25th August 2021 – 12PM WAT. (newsletter goes out 1st of September.)

[email protected]

After your WWW event is held, sign up to our Africa Spa and Wellness Sustainable Development Goals´ commitment on: org/advocacy/africa-spa-wellness-sustainable-development-goals/ and get a free mention in our Digital Magazine´s 4th Issue for Oct/Nov/Dec 2021, which is the biggest issue of the year with over 3900 spas in Africa and over 5000 readers– by 15th October 2021 at 12PM WATcontact:

[email protected]
6 Reasons to participate in 2021
Now more than ever the world needs your guidance, expertise & inspiration. Add your business today to the growing list sharing their "living well" message and appear on the World Wellness Map with a locator: www.wellmap.org (13 languages)
 You are a spa, beauty salon, fitness club, hot spring, sports association, yoga/Pilates studio, martial art dojo, dance school, senior home, hotel, resort, wellness community, Town Hall, Visitors bureau… JOIN US!
Join wellness champions in 120 counties making wellness fun, free, experiential & meaningful. It's free to register. The only participation requirement is for you to offer the public one free & fun, 60-minute wellness group activity on Saturday 18 or Sunday 19 September 2021.
 ·        Grow your market visibility / Shine as a Wellness Champion
·        Generate media exposure (TV, Radio, Print, Web)
·        Bring in new clients or members(wellness enthusiasts)
·        Bring back previous customers, with their best friends
·        Increase bookings & additional sales (packages & bounce-back offers)
·        Inspire your team (create Signature activities, and instill a culture of wellness)
VIDEO presentation about the vision & actions of WWW (2 minutes)
https://www.youtube.com/watch?v=iyL0dQufkdc 
VIDEO tutorial for easy online REGISTRATION (5 minutes)
Francais

À propos du Weekend Mondial du Bien-être – World Wellness Weekend – WWW
Chaque année depuis 2017, le Weekend Mondial du Bien-être coordonne le 3ème week-end de septembredes activités fun pour être bien dans son corps, bien dans sa tête, bien dans son assiette. En 2019, 430 parutions dans les médias ont atteint une audience de 224 millions de personnes.
Soutenu par plus de 60 organisations internationales et conformément au 3ème Objectif de Développement Durable des Nations Unies («Santé et bien-être pour tous»), le WWW a été célébré pour la 4e fois en 2020 par 1 123 établissements dans 543 villes (109 pays). Pour participer, chaque établissement et professionnel indépendant a organisé 60 minutes d'activités ludiques et gratuites pour attirer le grand public, que ce soit SUR PLACE (cours de yoga, fitness jam, conseils nutritionnels, atelier de massage, méditation guidée…) ou EN LIGNE avec un podcast, un tutoriel ou un webinaire.
A partir de 2021, cet événement mondial va encourager grand public tout au long de l'année à améliorer son style de vie avec les 5 Piliers du bien-être: Sommeil et Créativité, Nutrition et Immunité, Mouvement et Vitalité, Présence et Sérénité, Sens de la vie et Solidarité.
Notre mission est de faciliter, et d'accélérer, un changement progressif et durable au niveaupersonnel, organisationnel et gouvernemental:
Inspirer chacun à prendre soin de soi régulièrement, pour se sentir en meilleure forme physique et mentale;
Encourager les entreprises à améliorer le bien-être des équipes et des clients;
Inviter les villes à devenir des «champions du mieux-être», avec le soutien des Maires, des Offices de Tourisme, des Chambres de commerce, et promouvoir des activités intergénérationnelles pour les résidents locaux et à attirer les touristes (régionaux, nationaux et, à terme, internationaux).
En 2021, World Wellness Weekend proposera des expériences bien-être immersives 360° avec la en partenariat avec des professionnels de la Réalité Virtuelle, donnant ainsi la possibilité aux villes et aux acteurs du tourisme et de l'hôtelleriede séduire un public mondial.
Pourquoi devenir Ambassadeur WWW dans votre ville
Les professionnels du Spa, du Bien-être, du Sport, du Fitness, de l'Hôtellerie et du Tourisme sont encouragés à postuler pour devenir Ambassadeurs du Weekend Mondial du Bien-être dans leur ville, à titre bénévole sur leur temps disponible.
Nos 60 Ambassadeurs actuels sont des chefs d'entreprise, directeurs, managers, consultants ou formateurs intègres et respectés, qui veulent contribuer à un monde plus dynamique, enthousiaste et solidaire.
Être le représentant du World Wellness Weekend dans leur ville permet à chaque Ambassadeur de développer son réseau relationnel, d'accroître sa visibilité dans les médias et de nouer des liens avec les élus locaux, en apportant des opportunités à la fois au niveau personnel et professionnel.
Contactez-nous:[email protected]
Rôle des Ambassadeurs WWW
Contacter les établissements et les professionnels du bien-être indépendants dans leur ville, pour les encourager à s'inscrire en ligne gratuitement (www.wellmap.org) et promouvoir l'expertise et l'enthousiasme de leur équipe à travers des activités de bien-être originales
Participer à un appel ZOOMchaque moispour bénéficier du réseau desAmbassadeurs, partagerdes bonnes pratiques stratégiques et opérationnelles pour booster leurs activités
Contacter les médias régionaux par le biais de communiqués de presse réguliers pour parler du WWW au plan mondial et mettre en avant les établissements locaux
Mobiliser les associations professionnelles, fédérations, offices de tourisme et les élus locaux pour stimuler les forces vives de leur ville.
Les Ambassadeurs WWW sont mis en avant sur le siteweb WWW, dans les communiqués de presse, des articles, des podcasts, des webinaires, des conférences et les médias sociaux.
Les Ambassadeurs WWW reçoivent un soutien important avec des documents stratégiques et opérationnels dans le marketing numérique, la planification et la coordination d'événements, la communication et la recherche de sponsors.
Découvrez et contactez nos 3 Ambassadrices WWW en Afrique
Ambassadrice WWW à Cape Town (Afrique du Sud): Taryn LILLEY – Consultante chez Spa Dynamics [email protected]
Photo:https://drive.google.com/file/d/1m6-GNEaGKhbtbUW0MHEznJ-b1H-uIYkd/view?usp=sharing
Ambassadrice WWW à Marrakech (Maroc): Soumia HITE – Fondatrice Prestige Coaching [email protected]
Photo:https://drive.google.com/file/d/1f2F1rOJSHpiV5UgOVEAVCMGjuVd4j5dO/view?usp=sharing
Ambassadrice WWW à Cotonou (Bénin): Marietta DANNON – Fondatrice Marina Wellness Hub [email protected]
Photo:https://drive.google.com/file/d/1RNfai9rRDCPlMhEadSlu8pNK55eSQ2Zv/view?usp=sharing
Découvrez et contactez tous les Ambassadeurs du World Wellness Weekend: https://www.world-wellness-weekend.org/about-us/ambassadors/
Des avantages avec Spa and Wellness Association of Africa (SWAA) et WWW
Les membres SWAA qui participent au WWW bénéficient des avantages suivants:
– Votre activité wellness « spécial WWW »sera annoncée dans la newsletter continentale de septembre de la SWAA «Bulletin de bien-être de l'Afrique Spa» si votre activité est envoyée avant le 25 août 2021 – 12h00 WAT. (La newsletter sera envoyée le 1er septembre.) [email protected]
– Après votre événement « spécial WWW », participez à nos objectifs de développement durable pour le spa et le bien-être en Afrique sur www.swaafrica.org/advocacy/africa-spa-wellness-sustainable-development-goals et vous serez cité(e) gratuitement dans notre magazine numérique 4e numéroOct / Nov / Dec 2021, qui est le plus important numéro de l'année avec plus de 3.900 spas en Afrique et plus de 5.000 lecteurs – avant le 15 octobre 2021 à 12h00 WAT contact: [email protected]
6 raisons de participer en 2021
Plus que jamais, le monde a besoin de vos conseils, de votre expertise et de votre inspiration.
Inscrivez gratuitementdès que possible votre établissement et vos activités bien-être sur la Carte Mondiale du Wellness avec un géo-localisateur:www.wellmap.org (13 langues)
Vous êtes un spa, un institut de beauté, un club de fitness, un établissement thermal, un centre de thalassothérapie, une association sportive, un studio de yoga / Pilates, un dojo d'arts martiaux, une école de danse, une résidence pour seniors, un hôtel, un resort, une Mairie, un Office de tourisme… REJOIGNEZ-NOUS et rejoignez les champions du bien-être dans 120 pays.
L'inscription est gratuite. La seule condition de participation est que vous offriez au public un atelier de bien-être gratuit et original de 60 minutes le samedi 18 ou dimanche 19 septembre 2021 (dans votre établissement ou en ligne).
Augmentez votre visibilité sur votre marché en tant que « champion du bien-être »
Bénéficiez d'une mise en avant médiatique (TV, radio, presse écrite, Web)
Attirez de nouveaux clients ou futur membres (passionnés de bien-être)
Faites revenir vos anciens clients, avec leurs meilleurs amis
Boostezles réservations et les ventes additionnelles (forfaits, packages, promotions)
Inspirez votre équipe (créez des activités Signature et une culture du bien-être)
Présentation VIDEO sur la vision et les actions de WWW (2 minutes)
https://www.youtube.com/watch?v=yOq6L_bfdxY
Tutoriel VIDEO pour une INSCRIPTION en ligne facile (5 minutes)
3rd World Wellness Weekend
September 21 & 22, 2019
633 properties in 88 countries
Elevating Wellness Worldwide