Link To Associate Membershi, Online Networking, Access To Slides And Delegates List, Q&A With Speakers, Access To Recorded Video Session, Conference Digital Program Africa Spa Awards: (Virtual Registration)
REGISTER FOR THE CONFERENCE
Link to Associate Membership | Online Networking | Access to slides and Delegates List | Q&A with Speakers
You've missed the early bird
Members (30% Off) | 69 USD
Link To Associate | Membership | Online Networking | Access To Slides And Delegates List | Q&A With Speakers | Access To Recorded Video Sessions | Conference Digital Program | Africa Spa Awards: (Virtual Registration)
You've missed the VIP Price
Members (30% Off) | 90 USD
Link To Associate Membership | Online Networking | Access To Slides And Delegates List | Q&A With Speakers | Access To Recorded Video Sessions | Conference Digital Program | Africa Spa Awards: (Virtual Registration)
Non-members | 152 USD
Members (30% Off) | 117 USD
Members (30% Off) | 117 USD
PREMIUM SPONSORSHIP | $3,000
3 Day Conference Entry Fee
3X Entry To Virtual Conference 
(25% Discount) On Extra Conference Entry Fee 
3X Africa Spa Awards Virtual
Link To Associate Membership 
Annual SWAA Associate Membership Of Your Choice 
Online Networking 
Access To Slides And Delegates List 
Q&A With Speakers 
Access To Recorded Video Sessions 
Conference Digital Program 
Virtual Inclusion In All Itinerary 
Logo Promotion On Social Media
1X Speaker Slot 
2X Panellist 
B2B Virtual Lounge 
Interview 
Branding & Distribution Of Goodies Bags Can Be Sent To SWAA Hubs In Africa: Cape Town, Joburg, Lagos, Abuja, Addis Ababa, Mauritius, And Kenya 
Virtual Placement Conference Banner On Zoom 
Vote On Nominees Categories For Awards Night 
1X (Free) Workshop Offer (To Show Case A Smart Technical Workshop By Your Company Product) 
Attend (Paid) Workshop On Offer – Advanced Spa Business Leadership Program 
Attend (Free) Workshops 
Conference Program Digital 
Conference Virtual Gift Bag
GOLD SPONSORSHIP | $2,000
3 Day Conference Entry Fee
2X Entry Fee To Virtual Conference
2X Africa Spa Awards Virtual
Link To Associate Membership
Annual SWAA Associate Membership Of Your Choice
Online Networking
Access To Slides And Delegates List
Q&A With Speakers
Access To Recorded Video Sessions
Conference Digital Program
Inclusion In All Itinerary
Logo Promotion On Social Media
1X Speaker Slot
1X Panellist Slot
B2B Virtual Lounge
Interview
Vote On Nominees Categories For Awards Night
Attend (Free) Workshops Of Your Choice
Attend (Paid) Workshop On Offer
Conference Program Digital
Conference Virtual Gift Bag
SILVER SPONSORSHIP | $1,500
3 Day Conference Entry Fee
1X Entry Fee To Virtual Conference
1X Africa Spa Awards Virtual
Link To Associate Membership
Annual SWAA Associate Membership Of Your Choice
Online Networking
Conference Digital Program
Inclusion In All Itinerary
Logo Promotion On Social Media
1X Panellist Slot
Interview
Attend (Free) Workshops
Conference Virtual Gift Bag
VENDOR EXPERIENCE + REGISTRATION | $1,500
3 Day Conference Entry Fee
1X Entry Fee To Virtual Conference
(25% Discount) On Extra Conference Entry Fee
1X Africa Spa Awards Virtual
Annual SWAA Associate Membership Of Your Choice
Logo Promotion On Social Media
Vendor B2B Virtual Room Slot
Attend All (Free) Workshops
Annual SWAA Membership
Conference Virtual Gift Bag
SPEAKER SPONSORSHIP | $500
3 Day Conference Entry Fee
1X Entry Fee To Virtual Conference
1X Africa Spa Awards Virtual
Logo Promotion On Social Media
Virtual Banner And Flyer Placement During Speaker Session
Interview
Attend (Free) Workshops
Conference Virtual Gift Bag
MEDIA SPONSORSHIP (COMPLIMENTARY)
3 Day Conference Entry Fee
1X Entry To Virtual Conference
1X Africa Spa Awards Virtual
Link To Associate Membership
Access To Recorded Video Sessions
Inclusion In All Itinerary
Logo Promotion On Social Media
Interviews
Article Of Conference
Promote On Media Platform
Moderate A Panel
Attend (Free) Workshops
Conference Virtual Gift Bag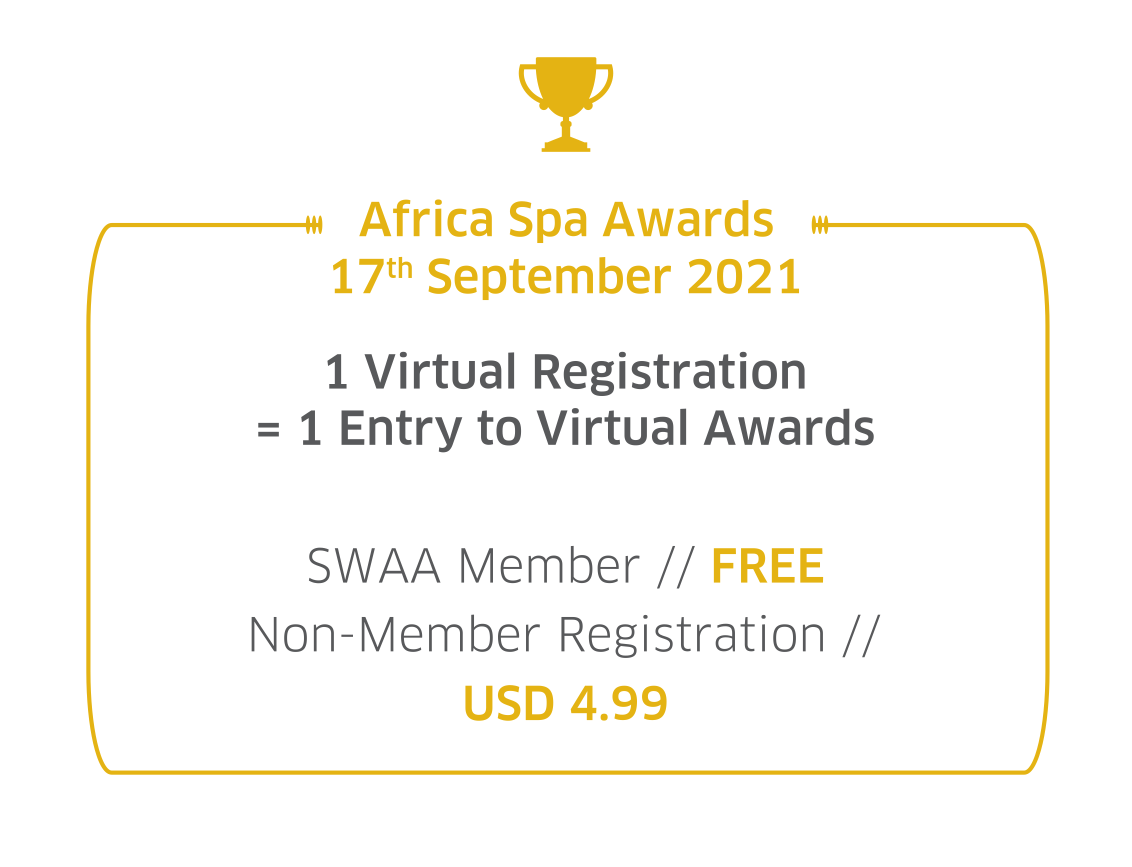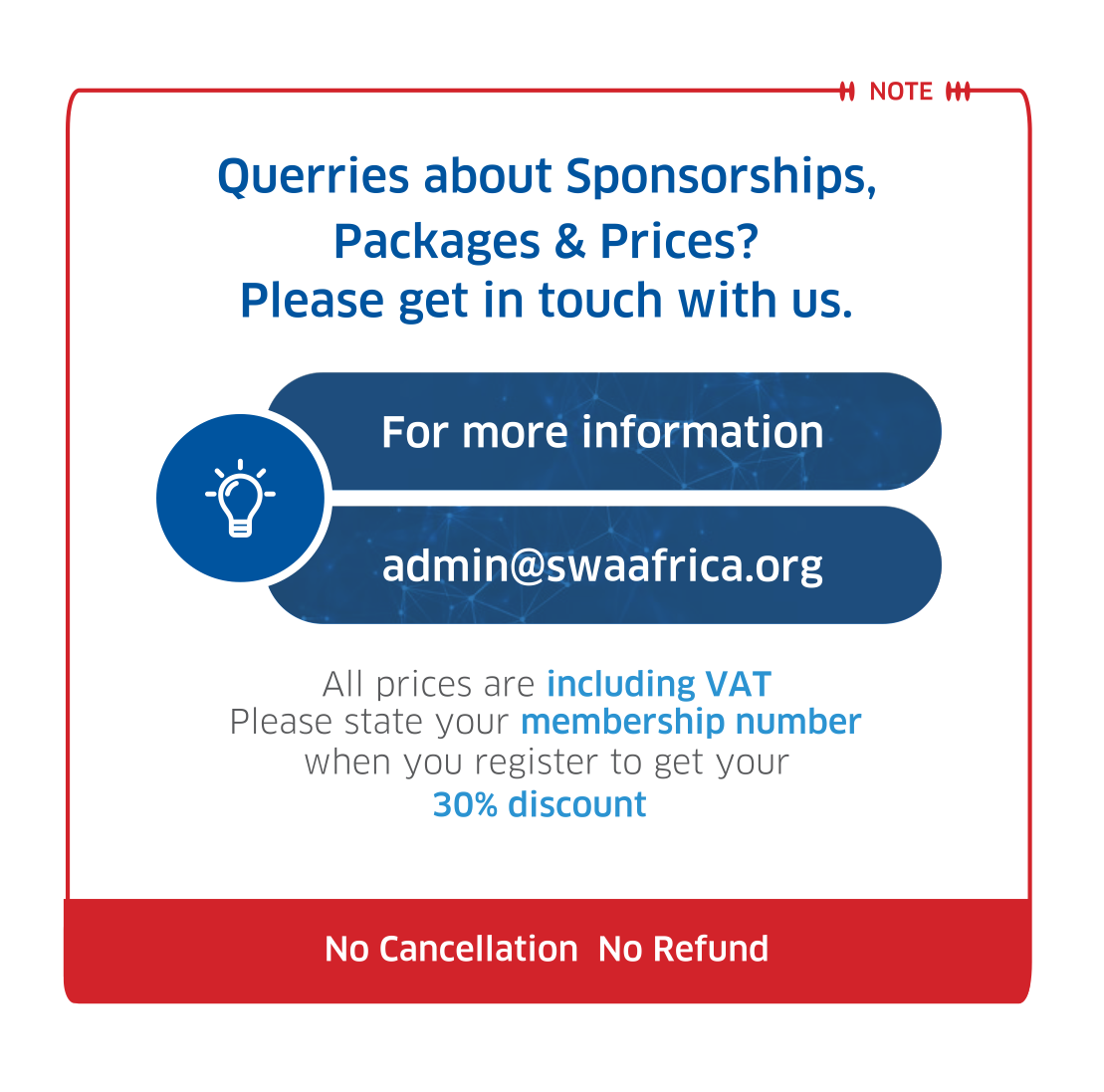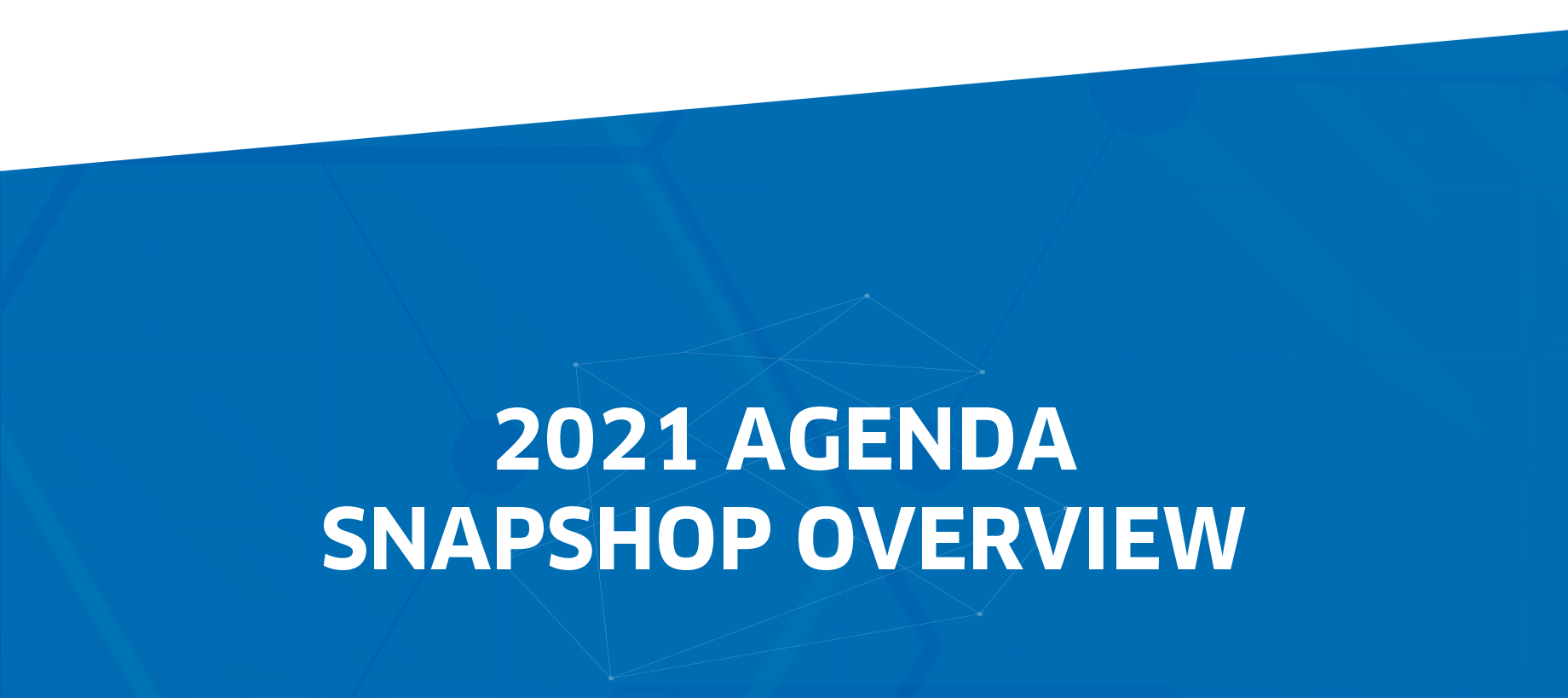 DAY 1 | WEDNESDAY SEPTEMBER 15, 2021
Smart Wellness Regions Africa Building A Decade Of Health & Wellness
•••
Social, Science & Economic Wellness Sessions
9:00 – 9:05
Welcome (Virtual)
|
Jacoline Wentzel // MC
9:25 – 9:35
Smart Wellness At Val De Vie
|
General Manager // Val De Vie
9:30 – 10:00
Smart Wellness Data And Spas Are The Future
|
Keynote Speaker (Virtual)
Rupert Schmid, CEO
Biologique Recherche Paris, France
9:35 – 10:05
Students Challenge (Virtual) Africa Wellness Transformation
In The 4th Industrialization
|
By Lucerne University of Applied Sciences
and Arts Business, Switzerland
–
2021 Student Presentation
Elaine Okeke Martin // MC
(Student Challenger and Guide)
10:00 – 10:30
Wellness Future For Luxury Hotels And What They Can Do To Raise Their
Spa And Wellness Areas To The Next Level.
|
Speaker (Virtual) – TBC
Gharieni Group, Germany
10:05 – 10:20
Students Challenge Panel
Angela Derks // Advisor (Education Training)
Suki Kalirai Senior // Advisor (Education Development)
Naim Madaad // Gates Hospitality, Dubai
Elaine Okeke-Martin // MC (Student Challenger and Guide)
10:30 – 10:45
|
As Africa Anticipates Population Growth Of 1.65 Billion In 2030, What Role
Can The Wellness Industry Play Towards Poverty Reduction
That Needs To Be Addressed?
|
Keynote Speaker (Virtual)
Provincial Minister for Tourism, South Africa (TBC)
–
Coming Soon
–
Demographic Transitions In Africa Present Both Immense Opportunities
And Immense Challenges:
What Investment Plans Are Being Put In Place
Now For Generation 2030?
How Attractive Is The Wellness Industry For The Generation 2030 In Africa
To Get A Minimum International Standard Education?
|
Panel
Keynote Provincial Minister for Tourism, South Africa (TBC)
CS Balala // Kenya Ministry of Tourism (TBC)
Sandy Fuhr // CEO BTI
Africa Tourism Board (TBC)
10:45 – 11:00
How Will Science, Equality And Cross Boarder Access Create
Smarter Wellness In Africa By 2030?
|
Keynote Speaker (Virtual)
Ameenah Gurib-Fakim
Former President of Mauritius – TBC
–
Coming Soon
–
11:20 – 12:00
Decade Of Wellness And New Developments (Virtual)
|
Panel
Ryk Neetling // Wellness Estate living
Rupert Schmid CEO // Biologique Recherche Paris, France
Gharieni Group // High-tech Spa and Wellness Equipment (Forbes Travel
Guide 2020 Official Spa and Wellness Equipment Manufacturer, Germany)
Steve Brooks // Baldwin
Anni Hood // CEO, Well-Intelligence
14:15 – 15:00
The Protocols To Relax, Heal And Nurture The Body And Mind
With The Modern Apothecary Crafted Products Restoring Physical
And Emotional Balance In Our Modern-Day Living.
|
Speaker (Virtual)
Annemari Wortmann
Designer – Tides Wellness, Netherlands
15:00 – 16:30
(with 10 min pre booked slots for Sellers)
B2b Lounge Networking (Virtual)
|
Celeste Peters // MC
SWAA Communications
DAY 2 | THURSDAY SEPTEMEBER 16, 2021
Smart Wellness Regions Africa Building A Decade Of Health & Wellness
•••
Future, Technology, Business Wellness Sessions
9:00 – 9:30
Smart Scaling & Mentorship
|
Keynote Speaker (Virtual)
Yene Damtew
Mentor & Hairstylist of Michelle Obama
9:30 – 10:00
Future Of Smart Wellness Travel
|
Keynote Speaker (Virtual)
–
Coming Soon
–
10:00 – 10:30
Future Of Smart Wellness Travel
|
Keynote Speaker (Virtual)
–
Coming Soon
–
10:30 – 10:50
Therapist Of The Future – What Will They Need To Be?
|
Speaker (Virtual)
Wilfried Dreckmann
10:50 – 11:20
Industry Evolution, Sustainable Growth And Knowlegde Share
|
Panel (Virtual)
Elaine Okeke-Martin // MC
–
Global Wellness Institute Representative
American Spa Association Representative
Asia Spa Association Representative
UK Spa Association Representative
Irish Spa Association Representative
SWAA Representatives
11:20 – 11:30
Round Tables Breakouts Different Topics
|
By Val de Vie & SWAA
13:00 – 13:20
Philosophia Botanica – How To Combine Cross Boarder Know-how Into
The Next Decade Of Spa And Wellness Treatment And Product Development
|
Sponsored (Virtual)
Franscesca Cazano Franklin
13:20 – 13:40
The Full Set
|
Sponsored (Virtual)
Ameera Abraham // Author of 'The Full Set' & CEO Amali Cosmetics
13:40 – 16:00
More Slots Available
16:00 – 16:30
SWAA's Key Milestones And Next 10 Years
|
Swaa Panel Annoucements
SWAA Activities // Simone Lipari (SWAA Director of Operations)
SWAA Memberships // By Fane (SWAA Sales & Marketing)
SWAA Sustainable Goal
16:45 – 17:00
Closing Remarks
|
Elaine Okeke-Martin
Founder & President Spa & Wellness Association of Africa (SWAA)
DAY 3 | FRIDAY SEPTEMBER 17, 2021
Smart Wellness Regions Africa Building A Decade Of Health & Wellness
•••
Professional Development Day, Conference Day & Awards
9:00 – 15:00
Spa Business Leadership Program – Advanced
|
Conference Course
Lisa Starr // Wynne Business, USA
16:00 – 17:00
Well–Intelligence Master Class-Taster Class (Free)
|
Conference Course
Anni Hood // CEO, Well Intelligence

The Spa & Wellness Association of Africa brings you the 5th Annual SWAA Conference where we will be talking about Smart Wellness Regions Africa – Building a decade of Wellness.
Africa wants to highlight the 'smart' in wellness. And in 2021 we look at technology, businesses, institutions and government planning, for the next decade. How do we improve the scene?
Join us and connect with international thought leaders to discuss how smart wellness regions growth will influence policies, cities and communities, our industry and our planet. With the signed Continental Free Trade Area (AfCFTA) treaty to create the world's largest single market estimates, implementing AfCFTA will lead to around a 60% boost in intra-African trade by 2022.
This conference will also connect you with thought-leaders who may also have recommendations for you, making attending well-worth it. The Non-profit Spa & Wellness Association of Africa, SWAA Conference, focuses primarily on raising standards, accreditation, education, promoting Africa, fundraising strategies and more. It is an important event solely for the valuable information related to the continent's development strategies, that will see growth in the next decade.
I warmly welcome you to participate in the 5th Annual SWAA Conference 2021.
Sincerely,
Elaine Okeke-Martin
(President)

Mauritius (Registered Office) | (230) 208 30 13

Kenya (Regional) | (254) 746 517 871

Nigeria (Mobile) | (234) 70 33 30 00 23

Ethiopia | (251) 93 39 41 88

UK (Mobile) | (44) 74 04 45 05 57
One of SWAA's main objectives is to provide a platform for the growth of the spa and wellness industry in Africa through education and standards. In order to achieve this, we host the only annual association's conference on the continent. This event brings together stakeholders from the African wellness industry but also international speakers and brands to share their experiences.