By Elaine Okeke– Martin

I caught up with Dr Theo Mothoa-Frendo, a black female South African medical professional and pharma expert, who is the founder of African Dermal Science. Se gave me insights into her products and why she started.

Uso by African Dermal Science, is a proudly South African anti-ageing skin care brand, which are specifically formulated for Africans and the African climate. The brand name was inspired by the Zulu word Ubuso, which means a celebration of who we are as Africans.

They have found a few independent stockists but their post Covid plan is around rolling out to Spa's etc. Here`s what she had to say about Uso:
What is the meaning of Uso?
The brand name Uso takes its meaning from the word Ubuso in Zulu and also means 'face' in kiS-wahili. These are two of the biggest languages spoken on the African continent. We wanted a name that would give an imagination to the beauty of an African face and affirm it. A celebration of us as Africans and who we are is the bedrock of our products. Uso has been developed for us, by us, in South Africa, right here on the African continent. Uso, by African Dermal Science, is a product name rooted in the sentiment of "Made in Africa" coupled with the respect of using high quality ingredients. Bringing to life a proudly African and truly international sentiment.
What inspired you to start your company?
Besides my own personal struggles with finding quality skincare that has been developed for my African Skin concerns and takes into account the African climate we live in. As Africans we have to ask ourselves questions such as why in a country where 86% of females are African, over 90% of the Skincare market share belongs to foreign brands developed in the western world for different skin tones and concerns. So, I thought, if not now, then when and if not me then who will introduce into market products developed specifically for us. We know ourselves best, we experience the challenges first hand and are best placed to create solutions to our problems. Products that are world class and can compete with the top International brands on efficacy, safety and packaging design. I saw this as an opportunity to develop and introduce into market a skincare brand that addresses our specific needs and also capture the contemporary mood of the African continent.
How many countries, spas or wellness centers do you supply to today?
Currently Uso Skincare is available in 40 Edgars Stores in South Africa, Botswana and Namibia, the only black owned local skincare brand in one of the largest fashion and beauty Department stores in Southern Africa. Our range is also available online at www.uso.africa and several other inde-pendent online stockists.
Why should anyone use your service or product?
The key skin issues most African women have are uneven skin tone, hyperpigmentation, seasonal dryness (winter dry skin), excessive oiliness and difficulty finding a sunscreen that does not make us look grey or like ghosts! On the other hand, people with pale skin tones or of Caucasian origin face challenges related to wrinkling and therefore many international brands are formulated to reduce the appearance of wrinkles, which is not a major problem for us Africans.
Over the 3 years we spent developing this range, we worked with renowned local cosmetic scientists, medical doctors and African women to research this proudly South African skincare range. In formulating and manufacturing this range, the focus is in only using the finest Botanical ingredients and the most advanced, active pharmaceutical ingredients the world over finest, high quality ingredients that have been tested for efficacy and safety.
Packed with active ingredients such as Centella, Chamomile, Pro vitamin-B, Hyaluronic Acid, Vit C, Kombucha, Niacinamide, Peptides, Vitamins amongst many other actives- the formulas not only deliver visible skin benefits, but also treat you to an indulgent sensorial experience.
Our products are also suitable for all skin types and both males and females.
The Uso Skincare Range is a complete anti-ageing home care system comprising of an Active Cleanser, Essence, Treatment Serums and Sun Protection. For our African skin specifically, our Award recognised 05 Active Day Cream with SPF 30 is one of our most popular products as it is anti-ageing Day cream with sunscreen, without leaving any grey or oiliness on any complexion, which encourages users to wear sunscreen daily as recommended. We also have a treatment se-rum for uneven skin tone and hyperpigmentation that only targets affected skin cells and therefore will not change a user's overall complexion and is clinically safe, a benefit that is very important to Africans.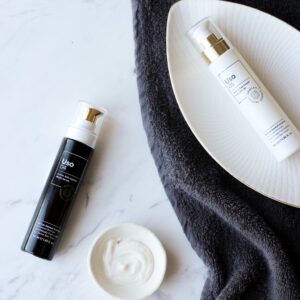 Therefore, our skincare range takes care of these chal-lenges that we face in taking care of our beautiful ethnic skin. The science inside each bottle is developed with a single goal in mind: to deliver glowing, hydrated, more even toned skin that reflects the beauty of science for African Skin.
If you had one piece of advice to entrepreneurs just starting out, what would it be?
Do work you care about. This will be the source of inspi-ration when faced with challenges, and there will many.